He came, and wow did he conquer. George Benson took Luanda by storm with two electrifying performances, leaving people grasping for words, for air, for perspective. He came to Luanda a virtual unknown but to those who went to Cine Atlântico on Saturday and Sunday, he left as king. And I feel the adoration was mutual - it's been awhile since Mr. Benson played for such a small, intimate crowd (1800 people at best), and it's been awhile, according to him, that people responded so well and so emotionally to his music. Such was Mr. Benson's delight that he went well overtime on Saturday and only didn't do so on Sunday out of consideration for the next guest, the great Chucho Valdés. Because certainly the public, who cheered him loudly and vigorously and begged for more after each performance, after each song, wouldn't mind. The only other musician who was begged for an encore during the Festival was Freshlyground, but the public's response for George Benson doesn't begin to compare.
Among the guests at Cine Atlântico during George Benson's Satuday performance was Angola's President and numerous other government entities, musicians, artists, diplomats, and so forth...it was a packed, full house, riveted and hanging on every string that Benson plucked from his guitar. Benson's bassist was perhaps the other most fun to watch musician at the Festival, straight out of a 70s funk music video. What a character. Some of Benson's most famous songs were shouted in unison by the audience, and when he played Give Me the Night, the entire Cine Atlântico stood up, dancing and singing in unison. Such scenes, such unabashed love for Jazz, has never been seen in Luanda, and I think a visibly emotional George Benson understood that.
I had the opportunity to translate for and interview Mr. Benson and few men, musicians or not, have the presence and charisma that he has. He owned Cine Atlântico and he owns Luanda. "Invite me again and I'll certainly come back," he said to boisterous cheers after his performance. I and many people in my generation feel incredibly lucky to have been able to witness such a performance by such an artist, in our very own hometown.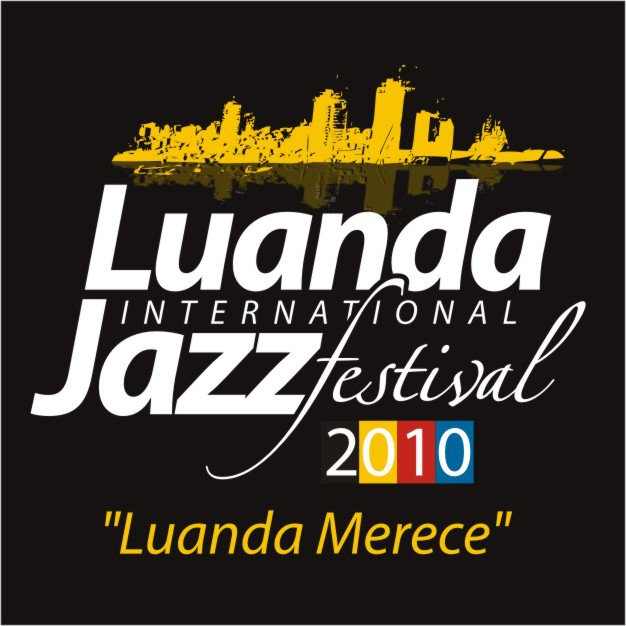 Give Me The Night
Ele veio, cantou, encantou, e Luanda rendeu-se aos seus pés, tonta, delicianda, pedindo, implorando por mais. Aterrou em Luanda um virtual desconhecido a não ser por aqueles que ouvem jazz, mas saiu daqui feito um Rei. Há muita gente que saiu do Cine Atlântico tanto no sábado como no Domingo que até hoje ainda não percebeu bem o que viu e ouvi (eu só uma destas pessoas). E sinto que a admiração vem dos dois sentidos: há muito tempo que o George Benson não tocava para uma audiência tão reduzida e íntima (1800 pessoas) e que respondeu tão emotivamente à sua música. Tanto gostou de actuar para esta plateia que no sábado tocou bem para além do seu tempo, e acho que só não fez o mesmo no domingo por consideração ao seu amigo, o grande Chucho Valdés. Porque certamente que o público, bêbado de tanta boa música, não se importaria. Os únicos artistas pelos qual o público pediu bis foram os Freshlyground e o George Benson, mas teimo a dizer que os aplausos para o George foram muito mais demorados e volumosos.
Entre os presentes no Cine Atlântico estava o Presidente de Angola e outras figuras do governo, diversos músicos e artistas, diplomatas, e por aí em diante...era casa cheia, olhando e ouvindo estupefacta a cada corda puxada pelo mestre. Kota é kota. E o baixista do Benson foi outra figura intressante de se ver, todo ele energético e efusivo. Algumas das canções mais famosas do George Benson foram entoadas em alto e bom som pela plateia, e quando ele cantou Give Me the Night...mano nem te conto. Era o Cine Atlântico todo de pé, cantando e dançando. Tais cenas, tal amor ao jazz, nunca foi visto antes em Luanda, e acho que o visívelmente emocionado George Benson percebeu isto.
Tive a oportunidade de traduzir e entrevistar o George Benson e poucas pessoas têm a presença e o carisma que ele tem. Foi dono e senhor do Cine Atlântico e é dono e senhor de Luanda. "Convidem-me outra vez e certamente estarei presente," disse ele entre os aplausos entrodosos do público depois da sua actuação. Eu e muitos outros da minha idade, da minha geração, sentiram-se honrados de poder ter presenciado tal performance por um dos gigantes do mundo de Jazz. Aqui mesmo na nossa Luanda.