As promised
late last week
, here's the post on Batida. It all started as a weekly radio show hosted by DJ Mpula on Portugal's Antena 3 station. Batida, as the show was known, focused on African and Afro-inspired urban music, ranging from kwaito to kuduro, dancehall to Brazilian Funk. It didn't take long for the program to turn into an actual project, complete with a CD. DJ Mpula of the
Fazuma family
and producer Beat Laden teamed up with the cream of the crop of Angola's authentic kuduro and hip-hop scene, including Sacerdote, De Faia,
Ikonoklasta
, and
Bob da Rage Sense
, and set about remixing and sampling Angolan classics from decades past (just like
Comfusões
) into insanely danceable, high energy, brain-warping beats. Pure batida, as the kuduro sold on the streets of Luanda is known as.
Alegria is without a doubt the best song on the Dance Mwangolê album, the first and only album under the Batida banner. It builds up luxuriously before exploding into a cornucopia of vintage, psychedelic, semba-twinged kuduro, accented with an electric guitar of sorts and a humorous loop:


Eu vou dançar com alegria
(I'm going to dance with joy)
A música do gatuno
. (The song of the robber).
Turn up your headphones and experience what Luanda sounds like. You can watch the video of the song
here
. And as much as Alegria is the jam to end all jams on the Dance Mwangolê record, be sure to check out Puxa, another well done track that features Angolan oldies and a bass heavy rhythm.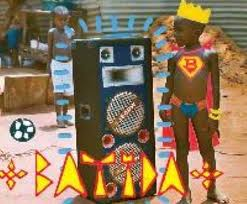 Alegria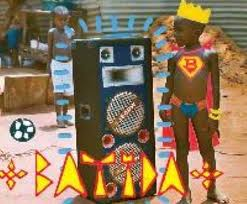 Puxa
Como prometido na semana passada, aqui vai o post acerca da Batida. Tudo começou com um programa de rádio semanal do DJ Mpula na estação de rádio portuguesa Antena 3. Batida era o nome do programa, e procurava divulgar a música urbana africana ou pelo menos inspirada pelos ritmos africanos, tais como o kwaito, o kuduro, o baile funk, o dancehall, e por aí em diante. Não demorou muito para que o programa virasse projecto, com CD e tudo. O DJ Mpula da
familia Fazuma
e o productor Beat Laden convocaram nomes pesados do mundo do kuduro e hip-hop autêntico de Luanda, como o Sacerdote, o De Faia, o
Ikono
e o
Bob da Rage Sense
, e embarcaram na missão de remixar e samplar clássicos angolanos de outras décadas (um pouco como o
Comfusões
) e transformar-lhes em batidas explosivas, energéticas, fora de série e estúpidamente dançáveis.
O melhor brinde do álbum Dance Mwangol

ê, o único até agora lançado pelo projecto, é sem dúvida Alegegria. Começa com a simples batida, mas cresce diante de nós a cada momento em que um novo som ou instrumento é adicionado à batida, até que depois ela explode num festival de kuduro psicodélico com sabor ligeiro a semba e uma guitarra tipo eléctrica que veio mesmo a calhar. E o loop:
Eu vou dançar com alegria
A música do gatuno
.
Aiué. Levanta o volume e escuta uma faceta de Luanda. Podes até ver o vídeo
aqui mesmo
. E mesmo sendo Alegria o melhor brinde do disco, apanha mesmo o álbum porque todas as músicas são boas. Incluindo Puxa, também incluída neste post. Outra track com um baixo lixado e um ritmo alucinante.
Batida on
Myspace
Batida on
baga-baga blog
(here you can read more about its history)
Batida is available online on iTunes, Amazon, and even
Mondomix