I waited long and hard to get my hands on Protegid, as its release here in the States was several months behind the album's European release. But as the tired old age adage goes, excellent Cape Verdean afro-jazz albums featuring
Carmen Souza's
distinctive purr of a voice come to those who wait. Protegid is Carmen Souza's third studio album and is her best one to date. It's been fascinating to hear and accompany Souza's musical maturity and evolution. The Carmen Souza of Protegid, polished and confident, dazzling and experimental, is a couple of steps further than the Carmen Souza of that first album, Ess ê Nha Cabo Verde.
Protegid is a flowing expression of Cape Verdean creole music heavily influenced by contemporary musical styles, most notably jazz. It's the natural progression of Cape Verdean music, which played a heavy hand in the musicality that evolved in the Americas, brought there by the slaves and later sailors that constantly voyaged between the west African archipelago and the American coast. Among my favorite tunes from Protegid are Afri Ka and Magia Ca Tem. You might remember Afri Ka from Carmen's second album, Verdade, but this version is markedly better, more free flowing, liberated even. Carmen's performance in it, verbally and instrumentally, is tantalizing. Magia Ca Tem highlights her music's jazz qualities, starting off very Cape Verdean but slowly merging into a sultry afro-jazz ballad peppered by African drums and those Carmen Souza vocals...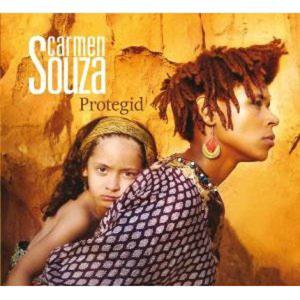 Afri Ka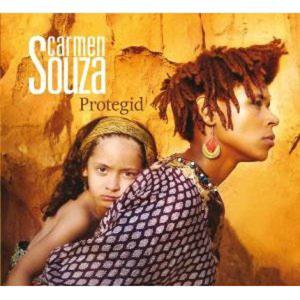 Magia Ca Tem
Esperei ansiosamente para poder finalmente ter o Protegid, porque nos States saiu muito mais tarde que na Europa. Mas como diz o ditado, saber esperar é uma virtude. Ou, neste caso, saber esperar por um excelente álbum de afro-jazz com a voz distinta da
Carmen Souza
é verdadeiramente uma grande virtude. Protegid é o terceiro álbum da Carmen Souza e o seu melhor até agora. Tem sido fascinante ouvir e acompanhar a evolução e a crescente maturidade musical da Dona Souza. Tanto que, a Carmen Souza do Protegid, polida e confiante, mágica e experimental, está a outro nível da Carmen Souza do seu primeiro disco, Ess ê Nha Cabo Verde.
Protegid é a expressão fluída da música crioula caboverdeana fortemente influenciada por estilos musicais contemporâneos, principalmente o jazz. É a progressão natural da música crioula, que por sua vez influenciou, e de que maneira, a musicalidade das Américas. Foram os escravos e marinheiros caboverdeanos que levaram certos estilos musicais às Américas por causa das suas constantes viagens entre o arquipélago e o continente novo. Entre as melhores músicas de Protegid estão Afri Ka e Magia Ca Tem. Se calhar deve-se lembrar de Afri Ka, que ja constava no segundo disco da Carmen, chamado de Verdade. Mas esta versão é melhor. Nela a Carmen está mais solta, mais liberada, mais à vontade, mais expressiva. Tanto a instrumentalidade da música e a performance vocal da cantora sofreram alterações positivas. Por sua vez, Magia Ca Tem destaca as qualidades 'jazzisticas' das suas músicas, começando como qualquer canção distintamente caboverdeana mas depois transformando-se numa sedutora música de jazz puro, com batuques africanos e a voz única da Carmen à mistura.
Carmen Souza on
Myspace
Carmen Souza on
Facebook
Carmen Souza's
blog