The first time I heard Sun in My Pocket was during a SuperSport commercial. SuperSport is pretty much the only channel we watch here in Cape Town, as it's the one that broadcasts live all World Cup matches plus all the pundit commentary we could ever wish for. They have a short little promotional segment called "Keep Your Shine On" that uses Sun in My Pocket as their soundtrack. Whenever that particular segment came on, I turned up the volume because I couldn't get enough of that jamming tune. At the time I thought that it was merely a jingle thought up by SuperSport...only about a week and a half after hearing it for the first time did I find out that Sun in My Pocket is the lead single and breakthrough track of Cape Town's very own electro-hop duo,
Locnville
.
They're an exciting young duo, Locnville. Twins, in fact. They're barely 20 years old but have been making music since they were seven, which probably explains why they're so adept at making such damn good tunes. Not only that, but they write, record, and produce all of their music. The guys behind Locnville, Andrew and Brian Chaplin (yeah, they're actually related to Charlie Chaplin) have been alternating their time between the US and Cape Town, and while some aspects of their sound are proudly South African, the hip-hop influence so present in their music is definitely American. The boys have been steadily gaining in popularity here in South Africa, constantly chopping the charts, and for me, Sun in My Pocket has become part of my Cape Town soundtrack. The sound of my World Cup experience.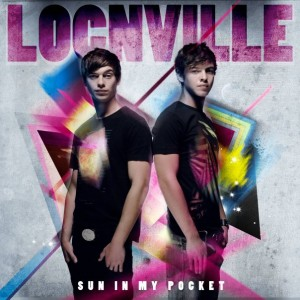 Sun in My Pocket
A primeira vez que ouvi Sun in My Pocket foi durante uma publicidade da SuperSport. Como muito adepto de futebol residente em África Austral, a SuperSport é o canal que eu mais assisto. É quase o único, porque transmite em directo todos os jogos do Mundial e ainda por cima tem uma legião de comentadores e analistas sempre prontos a discutir cada e qualquer episódio contencioso de cada partida de futebol. A SuperSport tem um pequeno segmento promocional que gosta de exibir entre jogos de futebol intitulado "Keep Your Shine On" e que usa Sun in My Pocket como soundtrack. Sempre que era mostrado este segmento, levantava o volume porque curtia bué o som da publicidade. Na altura pensava que era uma simples música publicitária inventado pelo pessoal da SuperSport, e só semanas depois é que descobri que aquela tal simples música é tão somente uma das mais famosas músicas sul-africanas da actualidade e o principal single de um duo de electro-hop aqui mesmo de Cape Town, chamados
Locnville
.
Os Locnville são um duo com futuro. A banda é composta por dois irmãos gêmeos que mal fizeram 20 anos. São músicos desde os 7 anos, e talvez por isso é que são tão bons a fazerem música de jeito. Eles têm total controle sobre a sua música, e são eles que escrevem, gravam, e produzem o seu próprio trabalho. Os jovens por detrás dos Locnville chamam-se Andrew e Brian Chaplin (pois é, são mesmo parentes do famoso Charlie Chaplin) e têm alternado as suas vidas entre os Estados Unidos e Cape Town. Se há elementos do seu estilo musical que são 'proudly South African', já o mesmo não se pode dizer sobre a maneira que cantam, que é claramente inspirada pelo hip-hop americano, como os próprios admitem. Os Locnville têm se tornado cada vez mais famosos aqui em África do Sul e não só devido a sua fusão entre a electrónica e o hip-hop, e estão constantemente em polé position em todos os tops musicais do pais. Sun in My Pocket, por sua vez, tem se tornado como uma espécie de hino, parte integral da minha própria soundtrack de Cape Town.
Locnville's official
website
Locnville on
Myspace
Locnville on
Facebook